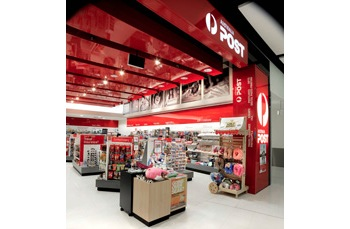 I was recently at an Australia Post shop to pay a bill. While I would normally pay bills online I thought I'd pop in and see what has changed.
There are a lot of services that Australia Post offers from selling stamps, selling stamp collecting memorabilia, allowing you to send letters and packages overseas, applying for a passport etc. The things that have changed for me are the things that they now sell. You can buy postal products and stationary which makes sense but they now have a range of gift cards you can buy (there was recently a discount of 30% off Hoyts, iTunes and Playspan gift cards), phones, prepaid SIM cards for both domestic and overseas, you can exchange currency, you can buy books, gift sets, toys, snacks and drinks, ink cartridges….it seemed that you could buy everything there.
They may not have a huge quantity of goods but they did have an interesting selection – I saw a birthday bear, chocolates, water, books, BBQ set, games, a clearance bin of toys and even printers and portable DVD players for sale while I lined up to pay my bill.
Next time you are near a post office – stop by and see what bargains you can score.