Now I'm not talking about buying your drugs or prescriptions as that's a health choice you make. I'm talking about the other stuff you can now buy at a chemist. Gone are the days that the chemist was the most expensive place (other than a petrol station) that you could buy odds and ends.
These days there are discount chemists and they discount are every day items as well as specialty items. At chemist you can find
baby products, baby formula, nappies
vitamins
cosmetics
beauty products
health products
first aid
eye care
fragrances
hair care
confectionary
sports related equipment
and much more…. it's like a mini supermarket in many cases.
In Parramatta, NSW there are at least 2 discount chemists and here are some of their current deals: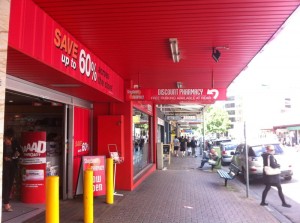 ShopSmart Wholesale Pharmacy 
46 George Street Parramatta
Lux Body Wash – 400ml wash 3 for $10
Swisse Ultiboost Cold Extracted Green Lipped Mussel 60 Caps $14.99
65% off U by Kotex Maxi Pad Regular 16pk $1.99
Save $30 Omron Hem 7200 Deluxe Blood Pressure Monitor $109.99
Sorbent Toilet Paper 8 pack – $3.99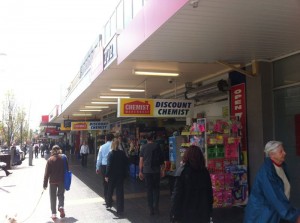 Chemist Warehouse
Church Street Parramatta
60% off Finish Tablet 15 pack $3.99
50% off Tresemme Shampoo or Conditioner 736ml or 900ml $4.99
65% off Rimmel Christmas Gift Pack $15
35% off Bio Oil 200ml – $22.69
45% off Hugo 150ml $59.99
So check out if there is a discount chemist near you and what deals you can grab!