Sydney is a city, who's size and magnitute continues to amaze me. With more suburbs that I could possibly recall, and a huge array of different styles and trends appearing in each one, there is a neverending amount of chic fashion that appears in this cultural hub each month. Sydney's cultural life is well and truly on the rise, with a rapid increase in high-quality theatre, art, bars, music, festivals and of course fashion. Each week and each month, a huge number of markets appears in the Sydney suburbs, featuring an array of clothing and accessories from Sydney's top designers, local one-off goodies and everything in between. If the generic, concrete jungle of shopping malls isn' t quite cutting it for you, markets are a great place to find some unique garments whilst making a whole day out of it with some fine food and  a great atmosphere.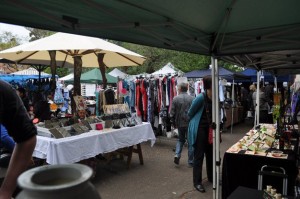 The weekly markets, which appear every Saturday in various locations are great events to add to the weekly schedule. There'll be sure to be a local markets closeby, which means less travel time and more familiarity with the stalls and styles you'll see there. Some personal favourites of mine are the Glebe Markets, which are one of the largest and most popular in Sydneydue to the rich character, live music, the great setting within the busy cafe hub of Glebe Pt Road and the slightly different flavour which appears from week to week; Bondi Markets where you can stroll through the abundance of vintage clothing, exotic imports, handmade jewellery and retro furniture just metres from the shorefront from the world renowned Bondi Beach; another weekly regular held in rain or shine is the Paddington Markets (not to be confused with Paddy's Markets) set within the hustle and bustle of Oxford Street and featuring over 200 stalls of market goodness; and of course there's the tourist hotspot, The Rocks Markets, where there's a huge diversity of handmade jewellery, arts and craft, funky fashion, food and live music – all on the doorstep of the magnificent Sydney harbour.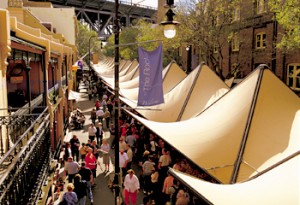 Aside from these weekly goldmines, however, there are also a plethora of fortnightly or monthly markets gracing the streets of our city.
First up, the Sydney Style Markets at the Italian Forum in Leichhardt. These markets are held on the 2nd Sunday of each month, meaning that the most recent one was held over the weekend and the next one is set to be the 14th of October. The Sydney Style Market is a perfect opportunity for retailers, designers and creators from the inner west to demonstrate their creative flair with their exclusive accessories, homewares and fashion. As my local markets, I can't get enough of these rare items as most of the stalls don't have a shopfront. The forum also has a fantastic cultural ambience, making the experience that little more special. It's the perfect place to take the friends, partner or whole family!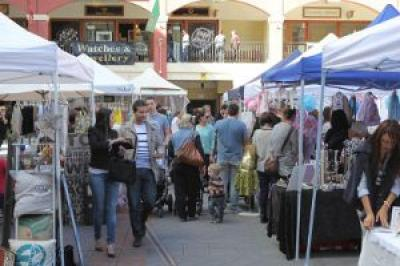 The Sydney Boutique Markets is another valuable experience, with a wide range of kids, baby and adult fashion being showcased on the first Sunday of each month at Rouse Hill Town Centre (yes a little off the beaten track but well worth the trip if you make a day of it). This monthly affair attracts over 35,000 shoppers, so you know they must be doing something right. On top of the unique and high-quality items appearing at their many stalls, the markets also have live music and a host of kids entertainment.
A little closer to the CBD, the Kirribilli Fashion Markets appear on the second Sunday of each month and feature around 120 stalls of new, second hand and vintage clothing and accessories. You'll also be able to find some fantastic little knick-knacks, collectable and homewares, so there'll be something to suit every taste.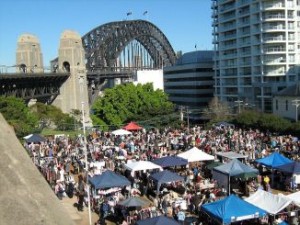 Held on the third Sunday of each month at Tradies Gymea, the Designer Fashion Markets are another one certainly not to be missed. This one is all about up-and-coming local designers who are set to propel their labels onto the world stage. Catch them hear first and grab some of their unique and stylish designs before they make it big.
The last on the list, and the most infrequent markets are the Dreamers Markets in Parammatta. After the huge success of their launch with th Spring Markets held earlier this month, they have announced that the next event will be on the 25th of December, just in time for christmas. You'll find fresh and new, only 100% Australian handmade products so lock in the date now to make sure you don't miss out on this fantastic opportunity.