I'm not sure how many people know this, but The Good Guys have a webpage dedicated for all their current promotions (Bonus Offers). You can basically choose the promotion that is relevant to your purchase and you follow the instructions to complete your registration. Looking at the list of promotions, the one that stands out the most is the $250,000 store credit giveway. Here's the promotion: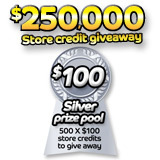 Spend $400 or more on participating brand (Samsung, Panasonic, Hisense, Sony or LG) TV, Home Theatre, Blu-Ray HDD Recorder or DVD Recorder between 29th May – 30th July 2012, There are 50 x $100 Store Credits to giveaway. This is a national promotion across our network of stores.
* Conditions apply.
Click here for the link to their Bonus Offers website and to view their terms and conditions. Some of their promotions are awesome!!! G33K 0UT!