If you're an online shopping junkie like me, you'll probably have figured this out already but how many of you actually check to see whether there is a valid discount coupon or voucher before processing your payment. Sometimes you can even save 5 to 20% off your total purchase price. So here's what I normally do.
Add the products to your cart
Go to the checkout page
Check to see if there are any fields called Coupons or Vouchers. Here's a few examples: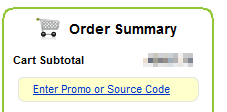 Go to google.com and do a search with the company name or even company URL followed by term "coupons" or "coupon codes"
Review some of the results and check which ones have a code with the highest discount
Enter the code in the checkout page and click submit/apply and see whether it's valid. If you don't see the price change with a discount then keep entering a different code until you do
Hopefully, this has helped a few of you out there.
G3Ek Out!