The word Summer usually arouses images of beaches, backyard barbecues and pool parties, sun, sand, surf and of course what is inevitably tied to all of these Summer staples is the swimwear that comes along with it. After the bikini bod is ready to make its reappearance to the world, the next hurdle is to sift through the many styles, brands and designs of bikinis to find the one that is right for your body shape and right for the season.
The 2012/2013 Summer season has provided us with a wide range of styles, some brand new unique to this particular summer, some oldies revived from the dead with a modern twist and some staples reappearing with a vengeance. Aside from the obvious reappearances year after year of floral patterns, mono-colours, one-pieces etc, we've collated five of the hottest trends for the current Australia summer.
These styles combine the expertise of the runways, magazines, fashion blogs and of course the bikinis various brands are making and stores are stocking. So if you're stuck on what swimmers to buy to prepare yourself for this beach season, take a look at these 5 popular trends from the biggest bikini brand names that will be sure to make you stand out and ensure you have your place in the sun.
1. Crochet
Tigerlily, Tigerlily and Miss Cocoa
Crocheted designs are quite a rare material for swimwear that usually would have been reserved for hippies or gypsies. Yet you can now acquire these original sets from all your favourite stores and even add a bit of bling to spice up your togs.
2. Cut-outs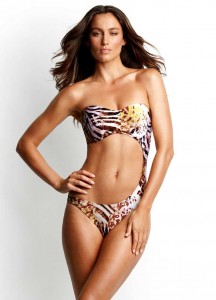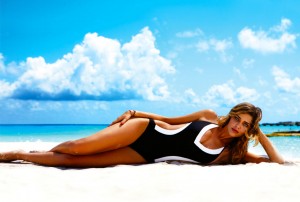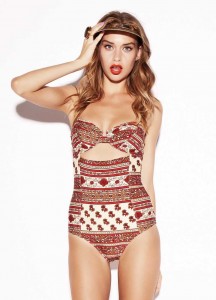 Isola by Megan Gale, Baku & Mink Pink
That last crochet one-piece was a nice segway to the next style on the agenda: cut-out pieces. Whether they be cut from both waists, from an entire front and side mid-section or from just below the bust, the combination of revealing skin from an otherwise conservative one-piece is a real winner this Summer.
3. Vintage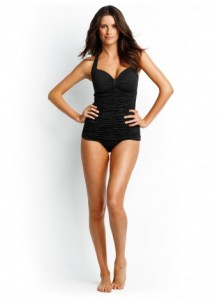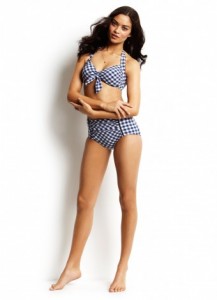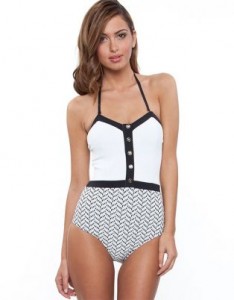 Seafolly, Seafolly & The Iconic
The beloved high-waisted bottoms, checkered patterns and adorable one-pieces reminiscent of the era of the sizzling 60s have made a fierce come-back this year. Some with a more modern edge and some as authentic as the originals, either way you simply can't go wrong with a vintage swimsuit.
4. Ruffles
Whether they be on the shoulder, bust or waist, ruffles on the bikinis have the go-ahead in 2012/2013. To floral, animal print or mono-coloured bikinies, no matter what the style, ruffles will add some extra pizzazz to your Summer wear that never goes astray.
5. Aztec/Tribal
Baku, Tigerlily & Miss Cocoa
We've all seen floral prints, animal prints and digital prints, yet a new style making waves particularly in Australia is the aztec/tribal prints. Go back to your roots with these fun and fierce bikinis.