If you're looking to receive a 10% Off coupon from Catchoftheday then you may be in luck. I can't guarantee this will work for everyone but I'm pretty sure that until the mob from Catchoftheday read this post it will still work.
Here's what you need to do:
1. Go to the website catchoftheday.com.au

2. Look for the products that you want to buy. Add them to your cart by clicking on the BITE ME or ALMOST GONE buttons
3. At the very top of the page you will see Your Shopping Cart

4. Click on Checkout
5. Click on secure checkout

6. Now you will be asked to login as an existing customer or to create a new account. If you have an existing account and you previously received this offer then may not be eligible to receive the 10% OFF discount (I'm just guessing here). Otherwise you can always create another new account.

7. Wait for a few minutes on the checkout page but don't process the payment.
8. Close the page
9. Hopefully by the next day, you will receive an email from catchoftheday. Something similar to this: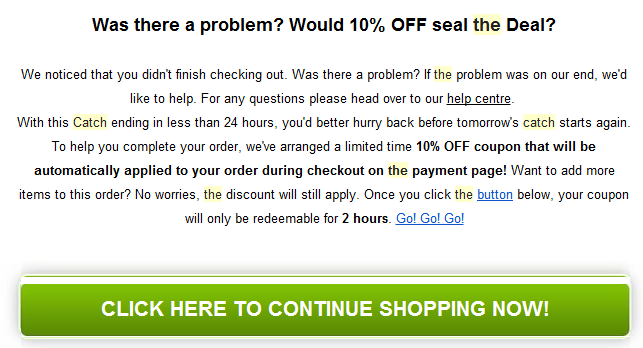 We noticed that you didn't finish checking out. Was there a problem? If the problem was on our end, we'd like to help. For any questions please head over to our help centre.
With this Catch ending in less than 24 hours, you'd better hurry back before tomorrow's catch starts again. To help you complete your order, we've arranged a limited time 10% OFF coupon that will be automatically applied to your order during checkout on the payment page! Want to add more items to this order? No worries, the discount will still apply. Once you click the button below, your coupon will only be redeemable for 2 hours. Go! Go! Go!
The great thing about this coupon is that the 10% discount will be applied to the actual order. So you can add as many products as you like.
NOTE: If you are in a desperate need to get the product then we recommend you just buy it as the site is pretty busy and they just may run out of  stock. We also can't guarantee that you will receive the above email.
So all I can say is give it a try and let us know if this worked for you.