The picturesque view from atop of a mountain down into the valleys, the fast paced motion from a first person view riding through magnificent tree lines through snow or on a bike, and the underwater memories of that last scuba dive through the colourful reefs. And they are just a few of my outdoor adventure moments captured by my favourite travelling companion, the GoPro Hero 2.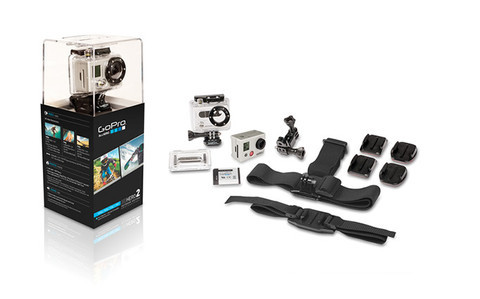 In the box
The GoPro Hero 2 comes in 3 different packages – the Outdoor edition, Motorsport edition, Surf edition.
The camera is exactly the same, it is just the accessories that differ between the packages. Depending on what your main intended use is, pick the package with the accessories that best match your needs.
Because my main intention is to mount the camera on top of a helmet, I have the Outdoor edition (pictured right).
The Camera
The GoPro Hero 2 is designed for high definition video recording, with a 11 mega pixel HD camera that can produce superb video recording at 1080p. There is no need to boast on the quality of the videos, as you can already see from the GoPro website the clearness and sharpness of the colours. Of course this does not discount the quality of pictures taken by the camera also.
There is a button at the front of the camera to cycle between the different modes, and a button on the top to start the recording or to take snapshots.
One great feature of the camera is the ability to select the viewing angle of the camera, between 120 or 170 degrees for the wide lens fisheye effect.
The plastic housing is completely waterproof, however you will get a bit of sound degradation because of the sealed enclosure. GoPro has also provided in the package a second housing that is open at the back to allow the microphone to be exposed, giving you the full sound.
The other great thing about the compatibility of the accessories, is that you can build your own extensions to mount the camera onto. The accessories mount can fit onto almost anything, you just need to have a bit of an imagination and be creative.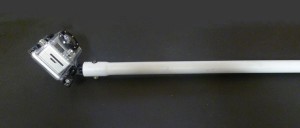 Where to buy?
My GoPro Hero 2 was purchased from HD Sports Australia (here).
At the time of purchase, they were running a promo with a free 32Gb SD memory card and free shipping.
Squeaky's Verdict
Since I've had the camera, I have had many great HD footages made, and priceless memories captured. The quality of the videos is second to no other camera I have owned, used, or seen. It is now one of the items that I must pack with me on any trips I go to.